Choosing from the Best Speech Recognition Software for Professionals
Professionals, regardless of their line of work, always have a goal to beat deadlines and finish their tasks at a specified time. However, with the amount of work on their plate, this is mostly unattainable. Most professionals stay late nights in the office and I bet you're one of them too! The good news is, there's a way to increase your productivity without always missing family dinners and that's by using speech recognition software. But how do we know which speech recognition software is best for professionals like you? Before we jump to that, let's get to know more about speech recognition.
Speech Recognition – Defined
A speech recognition software is a computer program that is designed to process and convert human speech into text. It allows professionals to speed up their tasks especially when it comes to documentation but without sacrificing accuracy and quality.
Top Three Best Choices
As technology advances, there are numerous companies that have created and designed their very own speech recognition software to serve the growing needs of professionals like yourself. It may seem difficult to find one that particularly suits your needs. Don't fret though. I have collected the top three best speech recognition software from globally trusted companies.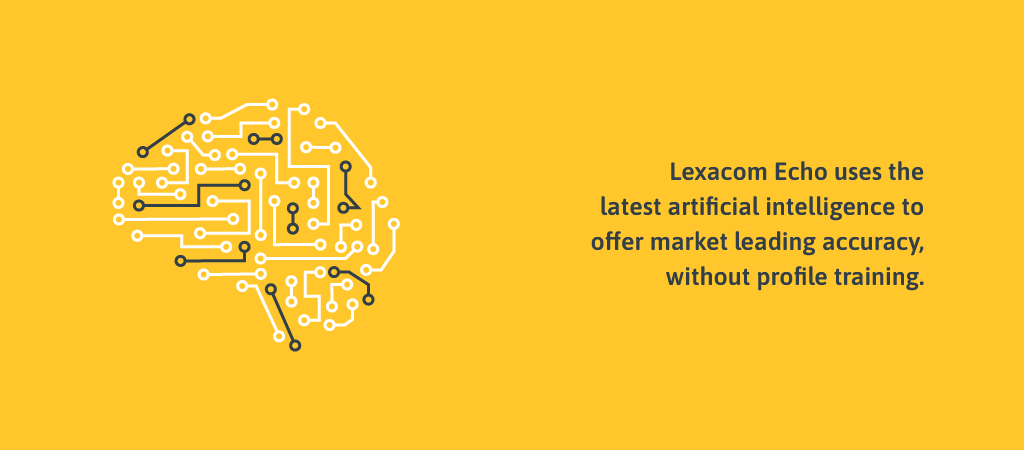 Lexacom Echo
A world-leading, AI-powered, professional-grade speech recognition software.
Revolutionises the way that professional speech recognition is made available and has the potential to dramatically improve efficiency.
Lexacom Echo uses the latest in artificial intelligence to manage and support profession-specific dictionaries for our users, ensuring Echo stays up to date with not only professional terms but also acronyms and abbreviations. With its latest AI technology, it produces outstanding levels of accuracy from first use, and because it utilises a conversational speech engine, you can be productive from day one, as there is no learning curve.
Lexacom Echo keeps its users in mind. That said, Lexacom understands how time is of the essence. Thus, offering software that needs no training. After installation, it will work exactly as needed, from the very first word, for the majority of users.
So, by reducing document creation times and admin workload, Echo provides time savings for any busy workplace. Its studies show that Lexacom Echo users create documents at an average speed of 160 words per minute. That's three times faster than typing, giving them a significant time-saving.
Medical Workflow Made Easy
Lexacom Echo allows anyone in your medical practice to dictate and quickly enter information directly into any clinical system and is backed by Lexacom's UK and Australian specific healthcare dictionary stays up to date with medical terms, acronyms and abbreviations, so you're not battling with cross pacific language differences.
No More Barrier
Lexacom Echo removes the barriers traditionally associated with speech recognition solutions and offers complete flexibility, accuracy, and a high level of transparency at a significantly lower cost with no compromises. The best thing is, it's compatible with almost all devices.
Features:
Conversational Speech AI means less training and learning – use it straight out of the box
Use with any application that utilises text from MS Word to XXXXXX
Self-Install, no IT permissions or administration required. Just click and go.
Lexacom is small and agile, so updates come to market faster
Unlimited Support and Training
More affordable compared to other speech recognition software
Benefits:
Profession-specific vocabularies for medical, legal, and business. Fully integrated and updated regularly ensuring consistent accuracy
Uses the latest AI technology
Readily available without profile training
Use at home or at the office
Market-leading accuracy
Save up to 80% of admin time
Secure and cloud-based
Add additional users with a few simple clicks
A low monthly subscription fee
Nuance Dragon
Nuance takes pride in its speech recognition software, Dragon, which, just like other speech recognition software, is specially designed to increase documentation output without sacrificing accuracy. Dragon promotes documentation that writes itself through the use of AI‑powered speech recognition that enables high‑quality transcription in 1/3 the time.
Features:
Superior speed and accuracy
Creating critical work documentation has never been easier with voice recognition 3x faster than typing and up to 99% accuracy—no voice profile training required. By capturing information at the speed of thought—and at the point of interaction—busy professionals are able to reproduce details with specificity and immediacy that may be lost when transcription requires retrospective typing at 40 wpm or less.
Comprehensive security
To ensure the security of your data, our cloud solutions feature 99.5% uptime and run on geographically dispersed, active‑active data centers hosted on Microsoft Azure, a HITRUST CSF-certified hosting infrastructure. All solutions align with industry‑standard frameworks and all data is encrypted with 256‑bit encryption, both in transit and at rest
Unparalleled flexibility
Our cloud‑hosted solutions ensure Dragon customizations synch across your devices. When used in combination with other cloud‑native solutions like Office 365, tasks begun in one location can be finished in another. If you add a unique Auto‑Text in Dragon Anywhere Mobile, it is synchronized in the Windows client (Dragon Professional Anywhere), so your work keeps pace with your busiest days.
Compliance and confidentiality
For health and human services professionals that encounter Personal Health Information (PHI) in the course of their jobs, rest assured that our Windows client (Dragon Professional Anywhere) supports HIPAA requirements for security and confidentiality in public sector settings such as social services, employing secure encryption methods throughout the workflow to safeguard all communication, documentation, and data.
Get your FREE trial here: Nuance Dragon Speech Recognition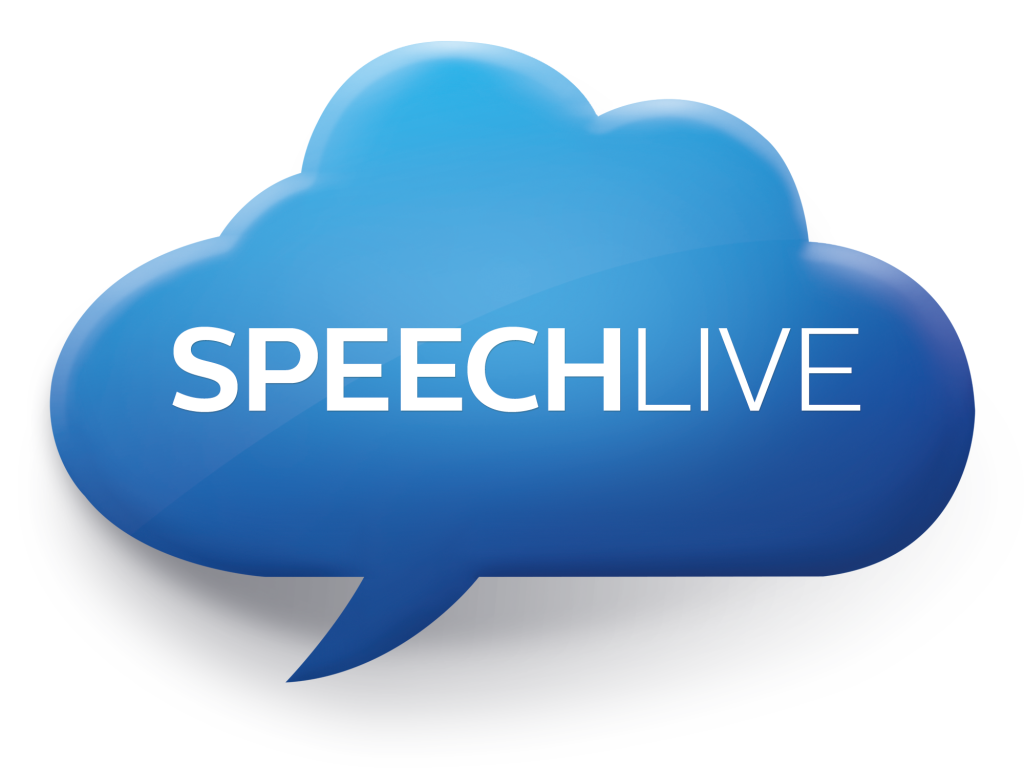 Philips SpeechLive
As for Philips speech recognition software, it is specially designed to convert speech to text without compromising quality just like Lexacom Echo and Nuance Dragon. Philips SpeechLive speech to text is also an affordable speech recognition option.
Use the SpeechLive desktop app to dictate using any program on your PC. Simply place the cursor in any application, for example, your email, Word document, document management system, or CRM, start the recording, and speak.
Benefits:
Instant transcripts
Convert your words to transcripts automatically using speech recognition
Up to 7 × faster than typing. Save time by speaking instead of typing
Features:
Real-time or file upload
Transcribe as you speak or upload audio files for automated transcription.
In desktop apps
Simply press the record button, click anywhere you want to type, and start speaking. SpeechLive converts your voice to text in real-time in any software like Microsoft Word, Outlook, or any CRM and EMR.
On your phone
Use the SpeechLive smartphone app to convert your voice to text in real-time while you speak or send recorded files to automated speech recognition.
Portable voice recorders
Dictate with a traditional voice recorder, upload your recording to SpeechLive, and your transcript will be ready in no time. Use our Windows app to use speech to text in any desktop software or our smartphone app to record on the go.
Multilingual capabilities
Transcribe text in up to 22 languages and variants with SpeechLive's recognition technology.
Fast turnaround time
Convert your voice to text either in real-time or within minutes when you use pre-recorded audio files.
Up to 95% accuracy
Get highly accurate results through our advanced speech recognition software.
Voice command
Use voice commands to insert paragraphs, punctuation marks, and special characters. ​
Aren't these three just amazing? Now you can create documents faster accurately without compromising quality! Copia is a partner of all three reputable global brands that offer quality speech recognition software for professionals. If you're looking forward to improving your team's productivity, call us at +61 8 8223 5590 today!