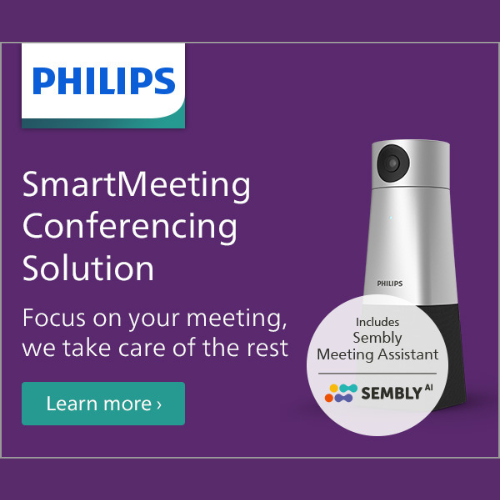 Semby AI with Philips SmartMeeting: Meet the Smartest AI Meeting Assistant
Are you tired of taking the minutes of the meeting? Well, the solution is here – Philips SmartMeeting with Sembly AI. But what does Sembly do? Let's get to know more about how it can make meetings even more productive.
Sembly AI records, transcribes, and generates smart meeting summaries with meeting minutes. Works with Zoom, gMeet, MS Teams, and Webex.
How intelligent is Sembly?
Sembly attends
Joins and records your meeting. Invite Sembly with email, meeting link or sync your calendar. Easy setup, no downloads needed.
Sembly understands
It transcribes the meeting, highlights key items. Sembly creates rich meeting notes by extracting discussed actions, issues, risks and requirements.
Sembly analyses
Generates GlanceView™ meeting summaries. AI-generated quick overview of the meeting with discussed topics and their key details.
Sembly learns
Understands your commands and vocabulary. Sembly recognises you, reacts on your voice commands and learns your vocabulary.
AI that saves you tons of time
Sembly AI turns your meetings into searchable text, highlights key discussion moments, and creates notes and summaries.
How useful is Sembly AI?
Don't worry about note-taking. Focus on the discussion, Sembly AI will take notes for you. You'll never miss a thing: action items, issues, risks, requirements and who-said-what.
Store all your meetings for a quick recall
Turn your meetings into searchable records that live in one place. Find a specific part by keyword, key item or attendee. No more re-listening and guessing. Turn discussions into readable text. Feel the magic of a high-accuracy transcription, speaker identification and clearing filler words.
Automatic meeting summaries
Sembly AI generates smart GlanceView™ meeting summaries with discussed topics and their details.
Stay informed without attending
Can't attend a meeting or double-booked? Send your assistant instead and review an hour long call in 5 minutes.
Share just relevant moments
Mark key discussion moments with time-stamped notes and bookmarks. Easy share with relevant parties.
If you're tired of writing meeting minutes, get the solution today. Philips SmartMeeting with Sembly AI helps you focus on your meetings by doing the minutes perfectly. Be more effective. Get yours today! Call +61 8 8223 5590 for inquiries.
Source: www.sembly.ai