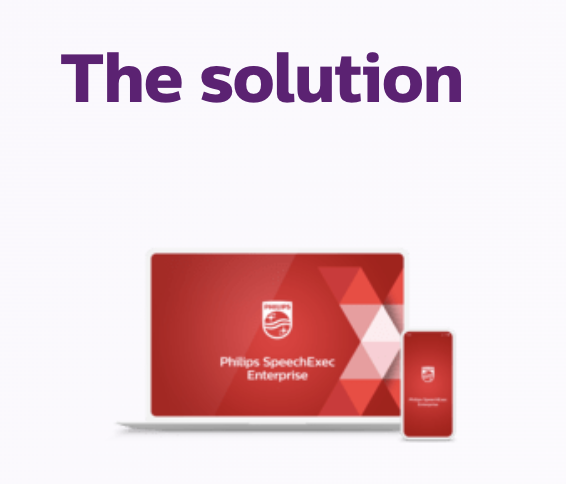 Cut Turnaround Time With Philips SpeechExec Enterprise 5.0
Philips SpeechExec Enterprise 5.0, the newest workflow solution has just been launched by the world's number one dictation solutions company, Speech Processing Solutions. The newest software is made to effectively connect authors, transcriptionists, managers, and IT administrators. It facilitates an easier and more efficient speech to text operation.
Efficient System Configuration
SpeechExec Enterprise 5.0 is Citrix certified and it supports Terminal Server, allowing on-demand application and delivery. Managers can now administrate user profiles, system settings, and licenses centrally, which in effect makes companies more flexible and effective.
According to Jesper Pedersen, the Head of IT in Aleris-Hamlet Hospitals recently adopted Philips SpeechExec Enterprise. He explained that "The big advantage of the new system is that both software and dictation files are located on a central Citrix server. It is almost instantly updatable, and it doesn't matter where our doctors or secretaries are. They can always access it."
Advantageous for Users and IT Administrations
The new and innovative tools make the lives of IT administrators easier. For instance, the new "Health Scanner Service Tool" monitors the Workflow Manager and Mobile Server. In case a problem is detected, it automatically sends an email notification to the IT administrator.
Furthermore, an improved central configuration is also offered by a new version to its smartphone users. A more harmonized central configuration can be experienced as the interfaces between the Remote Device Manager, SpeechExec Enterprise, and the Mobile Server has been optimized by the new configuration.
Works With the Latest Speech Recognition Software
All versions of Nuance speech recognition solution Dragon NaturallySpeaking, even its latest release v14 is supported by SpeechExec 5.0.
Supports All New Philips Recording Devices
Pair up the software to your newest Philips voice input devices such as Philips SpeechMike Premium touch and Philips SpeechAir in order to take full advantage of Philips's latest voice recording technology. Moreover, this version works perfectly with the Philips foot control ACC2300 series, which allows transcriptionists to get their tasks accomplished even faster and with ease.


Secure Configuration Data Exchange
Data security is extremely important to consumers most especially to those who belong in the legal and medical branches. Knowing that Philips implemented a secure configuration data exchange between the clients and the servers into Philips SpeechExec Enterprise 5.0. New security options and optional automatic backups are available for the configuration files. This guarantees that only authorized users have access and have the authority to make any changes to the files.
Join the Successful Troop
Most if not all business owners and managers find the importance of a dictation solution will provide security, freedom, and flexibility in their workflow. They want to minimise transcription stress and as well as accelerate correspondence turnaround time. These are their goals and with Philips SpeechExec Enterprise 5.0, these goals have become possible. Tammy Bands, the IT Manager of Orthopaedics SA shares how the new software has helped transform their documentation workflow. Read her success story by clicking https://www.dictation.philips.com/au/success-stories/success/minimising-transcription-stress-while-accelerating-turnaround-times-for-patient-correspondence/
It's time to take dictation and workflow to the next level. Experience transformation. Copia together with Philips can help you cut down turnaround times, cut operational costs, increase productivity, and get better accuracy. We offer a wide variety of workflow solutions that suits your business needs. Call us today at +61 8 82235590.