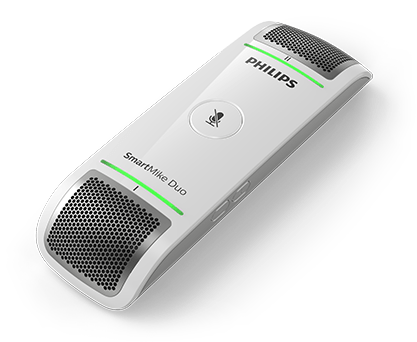 Artificial Intelligence for Crystal Clear Audio Recordings
Artificial intelligence or AI has been widely used these days. According to Wikipedia, AI intelligence demonstrated by machines, unlike the natural intelligence displayed by humans and animals, which involves consciousness and emotionality.
Relatively, AI simulates human intelligence in machines such as dictation equipment like Philips SmartMike AI Conversation Microphone and transcription and speech recognition software. AI products are being programmed to think the way humans think and sometimes, even mimic their actions. With artificial intelligence, machines can exhibit traits of the human mind like learning as well as problem-solving.
What is said and by whom?
Whether you are working with a law enforcement agency or in the health care industry, documenting conversations effectively is not an option but a must. Philips SmartMike uses patented artificial intelligence in order to identify and separate speakers while recording. This allows a clear and accurate transcript for each person.
Philips SmartMike has dual microphones that record conversations simultaneously and separately into two audio strings. Enabling you to distinguish who said what and what was said by who. With Philips SmartMike, you get crystal clear audio recordings and accurate transcripts even if two people speak at the same time.
Specially made for clear transcription and speech recognition
The Philips SmartMike can be easily integrated into existing documentation creation software and enterprise-level solutions, including speech recognition software. It's perfect for investigations, documentation, interviews, meetings, and a lot more.
If you are looking to document conversations effectively, Philips SmartMike can help you make it happen.
It's time to take dictations and workflow management to the next level. To experience simply better workflow, please visit our store. We have a wide variety of effective workflow solutions that can best suit your professional needs. Still can't decide on which one to choose? Give us a call today at +61 8 82235590. Our licensed specialists are more than willing to assist you.